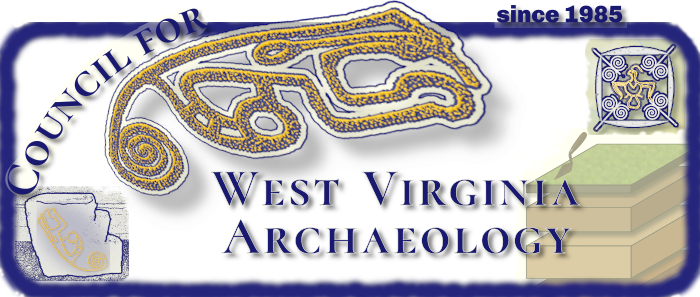 Welcome to the CWVA's Online Home

As a body of professionals, the members of the CWVA regularly produce research on topics of interest to West Virginia archaeology; however, due to legal requirements that we not disclose precise location information for archaeological sites, along with our clients' potential need for discretion, we often cannot simply reproduce our professional work for public consumption. The Council occasionally produces research, as an organization; furthermore, some of our members' work is publishable in the public sphere.

Find out more about our members, our

board of directors

, our organization, and our

events

in our

About Us

section. Our members have a wide variety of research interests, from the deep human past of the late Pleistocene, to the urban neighborhoods of our own post-industrial era. Many of our events are open to the general public. Visit our

members' profile pages

to find out more about the interests of our individual members. Questions about the human past?

Email Us

! (sorry, no dinosaurs!...that's a matter for the paleontologists).

The Council hosts a number of resources that may be of value to both professional heritage managers and avocational archaeologists alike. A "resource" may be as simple as a curated list, or as complex as a multifarious, multi-media resource intended to be a used by multiple groups, or for multiple purposes. Some "resources" are useful as end products, in and of themselves, such as a report, poster, or brochure, whereas other "resources" are intended to be used in the course of conducting further and/or ongoing research.
Fresh Content

Link

Type

Description

Resource
Group

Our old Ogam pages have been almost entirely "wikified," and can now be accessed directly from our Resources section. The "Solstice Observations (2003)" article, by Roger B. Wise, has not been reproduced, because it was, ultimately, published in West Virginia Archaeologist 59(1):15-2 (2019). We do not currently have reproduction permission for the 2019 article.

Event

The CWVA's Spring Workshop of 2023 aims to share perspectives from a diversity of professional and student voices, passing on tools and ideas that can be applied to our own landscape studies.READ

Resource

This paper addresses methodological issues in archaeological subsurface sampling through the evaluation of manual, scissor-style posthole diggers as instruments of controlled archaeological excavation. This research was initiated as part of an archaeological field school in urban archaeology, conducted by the University of South Florida, in 2003. Portions of this paper were previously reported in the author's senior honors thesis; however, the original data were reassessed in 2016, resulting in a new interpretation of the results. This research should be of interest to archaeologists working in urban and urban-adjacent areas, and also to those working on topics related to African American history. READ

Resource

While the CWVA encourages the public to take an interest in archaeology, including finding ways to participate in well-designed problem-oriented archaeological fieldwork, we also want to encourage all stakeholders to be respectful of the archaeological resources themselves. We have prepared a statement that reflects our position on public engagement with archaeology, especially with regard to field practices.READ
---

Page last modified on January 27, 2023, at 06:50 AM